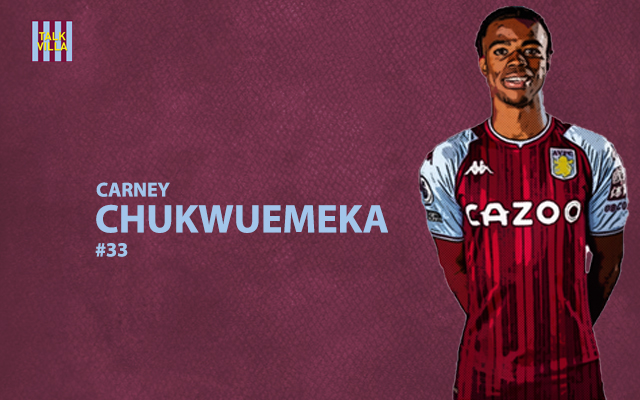 While Carney Chukwuemeka continues to impress for the England U19s this summer, Aston Villa face a potentially problematic decision on his future.
The 18-year-old looked a cut-above his peers at youth level over the past two seasons and that in turn led to him earning 12 appearances in the Premier League last season with the senior squad.
READ MORE: Why Morgan Sanson's time at Aston Villa shouldn't end this summer
There is absolutely no doubt over his ability and his potential such is the promise that he has displayed thus far, but as noted by The Express and Star, there is ongoing concern over his future given his current contract with Villa expires next summer.
With question marks hanging over Chukwuemeka in terms of whether or not he might leave this summer, Villa will be hoping to avoid that scenario given the important role he could play for us moving forward.
Villa stance is clear, doubts on Chukwuemeka's side
Speaking just last month, Villa boss Steven Gerrard made both his and the club's position clear on Chukwuemeka's future, and that is that they want him to be a key part of their long-term plan.
"Hopefully he is going to be a big player for Aston Villa. We want him to stay here long-term. We believe this is the best place for Carney. I hope that situation progresses in a positive way." [via The Express and Star]
Villa are giving Chukwuemeka opportunities, managing him patiently and sensibly and want him to sign a new long-term deal, but this now comes down to whether or not he feels as though he's getting enough chances at this stage of his career and if he believes a move elsewhere would be beneficial for his development.
Competition is fierce in the current squad, particularly in midfield, and so if there are no exits in that department in the coming weeks, Chukwuemeka will likely face the same situation when he returns for pre-season training.
It's then down to him to prove to Gerrard that he deserves a bigger role by producing when involved and in training, but ultimately Villa could be forced into a decision sooner than that given his current contract.
Villa must now decide if they have enough belief that Chukwuemeka will eventually agree to new personal terms and pen a new deal, or if not, we will have to consider selling him this summer if we want to extract as much financial gain out of him as that figure will naturally drop when looking at a possible January departure instead.
Time will tell how the situation plays out and if Chukwuemeka manages to climb the pecking order over pre-season. Villa's stance is obvious in that the club want him to stay, and so this decision is on him as while in an ideal world he'd sign a new contract and be an exciting part of the squad who grows in influence over time, Villa have the options and resources to move on without him too.