Aston Villa boss Unai Emery has implemented clear ideas and a style of play since arriving, but it seems we're still getting to grips with one fundamental principle.
Villa suffered a disappointing 4-2 defeat to Leicester City on Saturday, and much of it was our own doing as we made costly mistakes throughout that certainly helped the visitors on their way to victory.
READ MORE: What Unai Emery said after Villa's defeat to Leicester
Whether it was losing possession in dangerous areas or simply not defending well enough as a unit, the defensive performance was nowhere near good enough and had we cut those individual errors out, our attacking play and creative threat could have secured us three important points.
However, we're left to rue a missed opportunity instead and assess a frustrating display, from which Emery will no doubt learn a lot and convey important messages to his players. One principle of his management that he won't abandon though is playing out from the back to start our attacks.
"Yes, of course," Emery said on continuing to play out from the back, as per BirminghamLive. "The opposition have very good players. They were pressing. We have to learn to try to break the pressing. They came here to push us and press us high. We can play long ball, long ball, long ball but I don't want to do it.
"We can do it sometimes but I want to control better the second action. We work on both but, after the first goal, we were confident. We started the match winning and I want to keep doing it and to continue building up and to play with our goalkeeper. Maybe sometimes we have to mix and to create our style with one process. Of course, I want players with personality to try and play and to improve and be one step ahead."
The benefits of this approach are clear, and there are several examples in the video below where when it works, it allows us to quickly break lines, find space and swiftly shift the ball from the defensive phase into the attacking final third where we can create opportunities.
Now, after Boubacar Kamara lost possession on Saturday for Leicester's first goal and was dispossessed in the lead up to their third too, we've also seen problems arise at Brighton for example where it was Douglas Luiz on that occasion who was pressured off the ball and we conceded.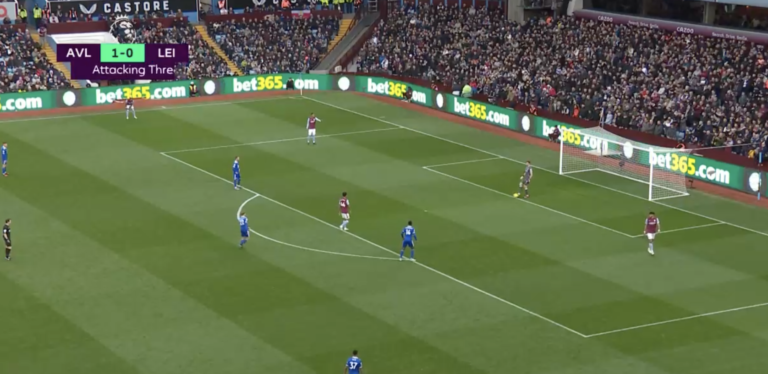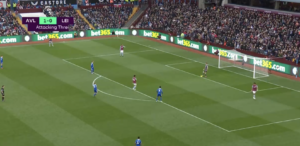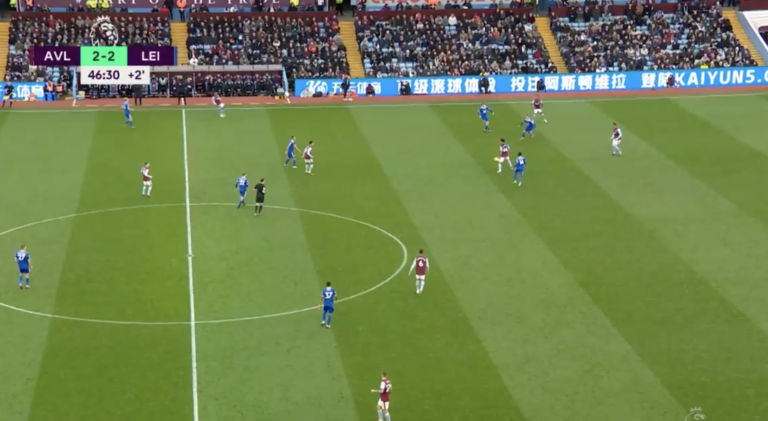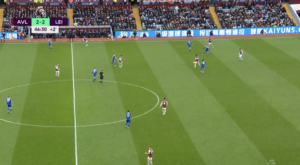 Further, Brendan Rodgers specifically mentioned Kamara in his post-match interview and their game-plan to apply pressure, and so that is certainly an area where further assessment is needed of what Leicester did well, and how we can play around that if teams imitate their tactics.
Emery is right to suggest that a combination of short and long passing from Emi Martinez is needed as he surveys what is in front of him, but the Villa boss wants to play a certain way and the players have to be consistent in executing it on the pitch.
Kamara has been excellent since he arrived and so it's hard to be too harsh on him as everyone has a bad game at some point. However, it's critical that he and the rest of the players keep learning and react positively, ensuring that the same mistakes don't happen again.
The common theme in these errors which lead to goals is arguably that we're not moving the ball quick enough under pressure. That's on the player in possession, with Kamara having an out-ball to Lucas Digne for the first goal but he instead opted to hold on to it for too long, but it's also on those around the player in possession creating an option to allow him to shift it.
That's something Emery and the players will undoubtedly continue to work on in training, and while Saturday was a setback not only in terms of the result but also the performance and errors, Emery was right in his overall assessment in that what we've done under him so far has been positive and we must continue to be demanding in our bid to constantly improve.
Emery ball vs Southampton (thread) pic.twitter.com/ujDXQ81yTf

— EB10 (@buendiazboyz) January 24, 2023