As Unai Emery's influence continues to grow on his Aston Villa side, there is much more to come as we try to build on an impressive start.
The Spanish tactician has now won four of his six Premier League games in charge, and although there was real disappointment over exiting both Cups, there is no doubt progress is being made.
READ MORE: Influential Villa ace starting to make important impact that was lacking
It's still the early stages of his tenure, but Emery has evidently been working tirelessly to implement his ideas and style of play on the side, both in and out of possession, and while we've perhaps seen more improvement off the ball thus far, there is confidence that we're moving in the right way on the ball too.
A key factor in the ongoing evolution under Emery will be his ability to add new players that fit his system and philosophy, and we saw the first example of that with Alex Moreno in his Villa debut against Leeds Utd on Friday night.
While further business is expected, that signing in itself will have a major impact on the way we play and how we set up tactically moving forward.
Alex Moreno influence on Villa
We knew what we were getting in Moreno based on his impressive form at Real Betis, and while he carries out his defensive duties, he loves to bomb forward and get into dangerous attacking positions on the left flank.
That's reflected in his heat map below. Given it was his debut and there was perhaps a settling in period to acclimatise and to make sure he was defensively sound first and foremost, he did sit back.
However, he also spent a lot of time pushing up around the halfway line, and we saw with the efforts that he had on goal and his deliveries or cut backs into the box, he will get into threatening positions in the final third to add a new dynamic to our attack.
As we'll see below, Emery could set us up in a way that gives him the freedom to do that more often in the coming weeks and months, and hopefully he has the end product to be a decisive figure in our attacking play.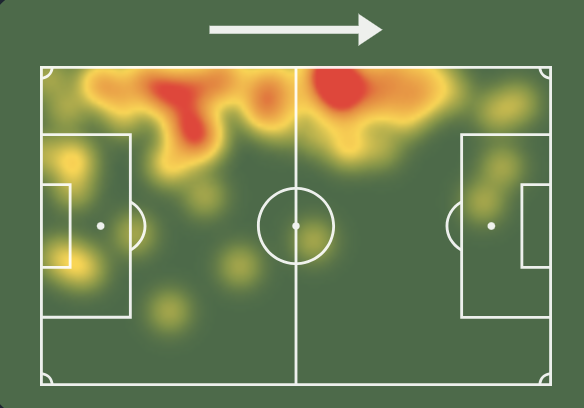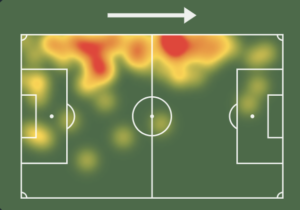 Impact on Kamara, and Villa right-back
If we're going to give Moreno license to attack, tweaks will need to be made to provide balance to the side both in and out possession.
As we can see in the first heat map below, Ashley Young spent a lot of the game in a defensive position in our own third. Now, that was partly down to Wilfried Gnonto being a real threat, but also the versatile veteran tucked in alongside Ezri Konsa and Tyrone Mings to ensure we had numbers back if needed.
With Matty Cash currently out injured, it will be interesting to see if he can efficiently play this role and perhaps not attack as much, or if Young's tactical nous sees him play a sustained, important role in the side.
Either way, this could be the way Villa go with the focus more so on the left flank attacking, while the right side provide balance and shore things up.
It will also impact Boubacar Kamara or Douglas Luiz in midfield too. The second heat map below is Kamara's vs Leeds, as while he pushed up to get involved in our attacking play too and linked up with Moreno, we can see he drifted across to occupy the space vacated by the Spaniard to provide cover in case of a counter attack.
That is another important aspect of the organisation and awareness we have with or without the ball, and time will tell if this is a sustained approach or if we mix things up to ensure we're not overly predictable.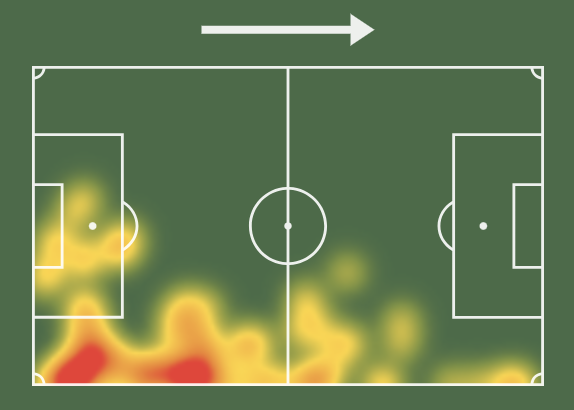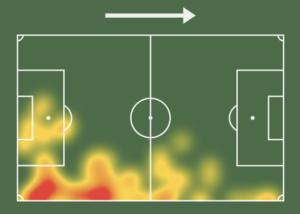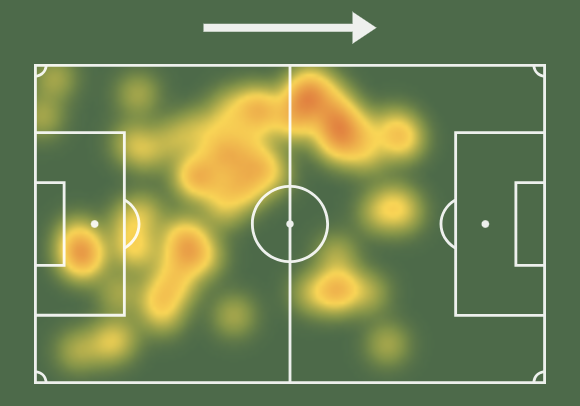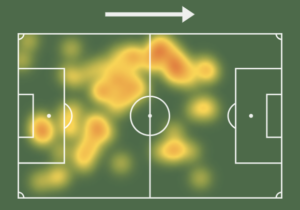 Emery's need for a winger
As per Sky Sports, Emery has conceded that he wants a winger, a specialist winger, this month, to bolster his options in that area of the squad.
That's understandable given the majority of his options who play out wide – the likes of Emiliano Buendia, Philippe Coutinho, Jacob Ramsey and John McGinn – all like to naturally drift inside and so the pitch becomes more narrow and it's arguably harder to break teams down that way.
Leon Bailey is currently the only real option he has that offers what he's specifically looking for more of, and so whether it's on the left to link up with Moreno and really emphasis our attack on that side, or on the right to add balance and different dynamics to our attacking play, it seems signing a winger is very much on the cards in the coming weeks.
Patience needed with Villa's plan to play out from the back
One key aspect of what Emery wants his Villa side to do is to play out from the back.
We've seen it lead to mistakes already which have cost us, and so it's natural that there will be an uneasy feeling for some when they see us continue to adopt that approach and take risks.
However, we need to be patient with it and especially at home at Villa Park, avoid raising audible anxiety when we do it, as it only adds pressure to the players who are still learning and showing improvements.
As we can see in the video below, the players are capable of doing it. Consistency is perhaps still the issue, but when we play out from the back with patient, incisive build-up play, it can be brilliant to watch as we shift the ball quickly to beat the press and break the lines.
The likes of Kamara, Luiz and Moreno are going to be pivotal in the early stage of that process, and they showed their technical quality and silky ability to flick the ball past a player or drop a shoulder and break free to create space and set up a Villa attack.
It's something we hopefully see more of as it develops and improves, as it will be a vital part of our game and is a major improvement on sending aimless or hopeful long balls up into the final third with no real plan or direction to our play.
So close to a nice goal pic.twitter.com/taOAJdhJ0W

— EB10 (@buendiazboyz) January 14, 2023