Aston Villa have completed the first signing of the Unai Emery era, with Alex Moreno joining us from Real Betis.
The 29-year-old arrives at Villa off the back of an impressive spell with Betis since joining them in 2019, having helped them win the Copa del Rey last season while contributing six goals and 14 assists in 122 appearances.
READ MORE: What Emery said as Villa confirm Alex Moreno signing
Admittedly, at the start of the transfer window, signing another left-back wouldn't have been the most predictable first move from Emery on the market, with Lucas Digne and Ludwig Augustinsson already at his disposal, along with the evergreen and versatile Ashley Young.
However, it's clearly a vital area of the pitch for the Villa boss, and he has now drafted in his own player which suggests that he wants key skills and attributes from that particular position and role.
"Álex is a good player that can help our squad," he said of our latest signing, as per the club's site. "He has been one of the top left-backs in La Liga over the past few seasons and we are delighted to have him here."
What Alex Moreno brings to Villa
The defensive side of Moreno's game has been his weaker side, but it has certainly improved whilst working under Manuel Pellegrini at Betis, and so that has been an important part of his development in more recent times.
Naturally, he can still make improvements and Emery will no doubt help him do that, but if he can defend diligently and aggressively, he can then have a more significant influence in the attacking phase of the game.
Moreno boasts explosive ability to break forward with pace with or without the ball, and he has the energy and work ethic to get up and down the left flank and cover plenty of ground.
The comparison below shows that he and Digne have been more impactful in different ways, but with the way that Emery wants to play, it just feels as though the attributes that Moreno brings to the table are better suited. That said, there is also the option of playing both down the left side together, and that is something we could see against certain opposition to both nullify their attacking threats on that flank but also maintain our own.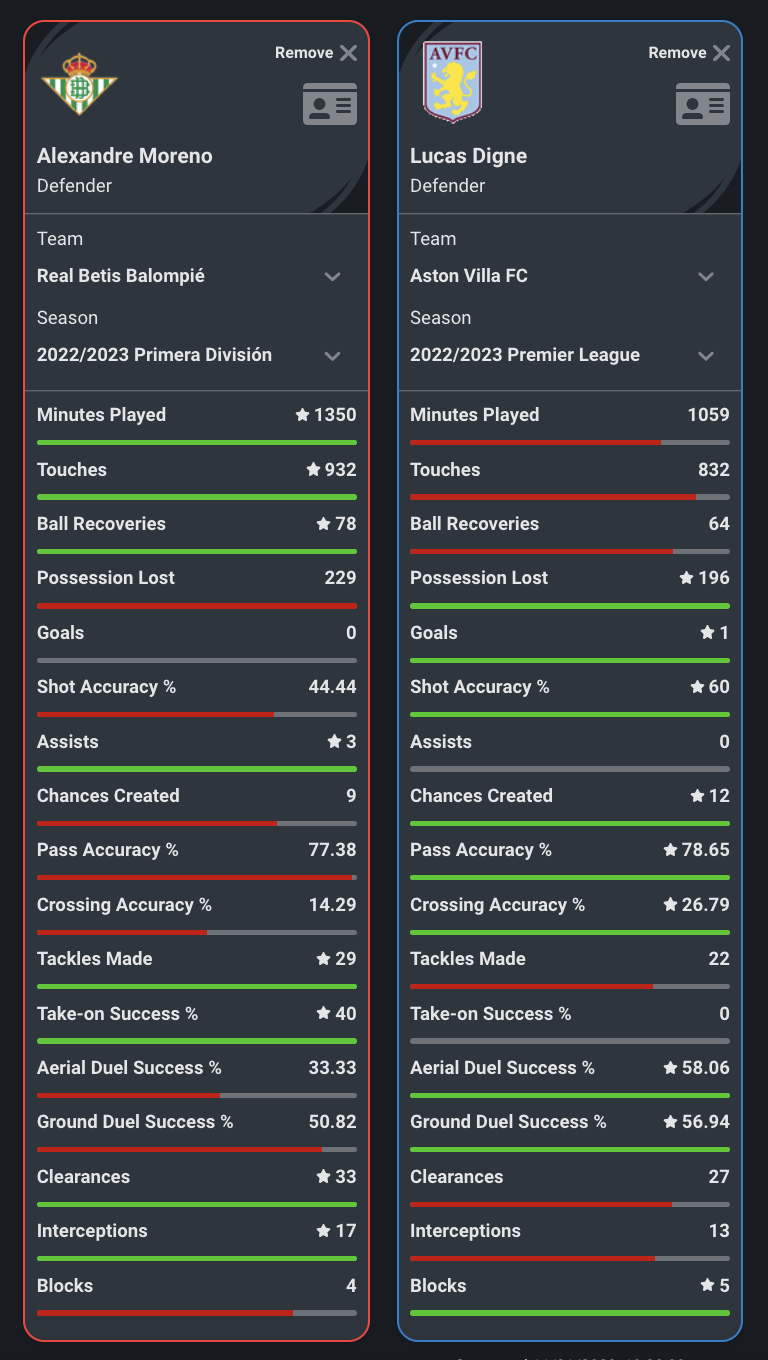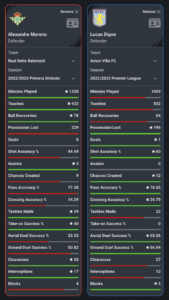 Moreno's pace is certainly a factor that goes beyond the numbers though, and that's not only when he's bombing forward, but also his ability to recover and get back into position will be pivotal as we avoid getting hit on the counter or hurt by the long ball over the top, something we've had a few problems with under Emery so far given his preference for playing a high line.
Further, whether it's Ollie Watkins or Danny Ings along with Leon Bailey, Villa have not, and arguably won't, score a consistent amount of goals from aerial crosses into the box. We saw that against Stevenage last weekend as an example, with Ings often isolated up top and lacking support as he was crowded out in the middle when deliveries came in.
Moreno will be key in providing penetration and overlapping runs to get in behind and around defences rather than resorting to hopeful balls into the box. He'll use his technical quality to cut passes back inside as his ability to push forward quickly and provide width then opens up spaces for others in more central positions to cause problems.
Additionally, as we've seen in our wins over Man Utd, Brighton and Tottenham, Emery wants us to be quick in transition. To win the ball back in high areas, play swift, incisive football to break lines with speed. Again, that is where Moreno has the edge over Digne, and ultimately provides a better fit for Emery.
So, with a more consistent and balanced attack down the left, it will be interesting to see if Emery will ask Matty Cash to sit and do less going forward himself.
It seems a possibility that we'll attack less on the right side, ask the right-back to shift inside and provide cover as Moreno pushes forward, creating a back three while we're in possession. It's a tactic we're seeing quite widely across Europe, with AC Milan arguably a good example with what they do with Theo Hernandez, who has been instrumental in their success as an attacking force from left-back.
It's a really intriguing and exciting new signing for Villa, and it's hoped Moreno can have a positive influence on our play moving forward as Emery continues to mould this team into his own with more excellent additions such as this one.